Considered Response
0115 928 1613
Lynne Chapman offers a "Considered Response" to a wide range of clients. She is well-known in the Qualitative Market Research industry as she and her now-retired partner Marilyn Beaumont have been recruiting people to attend group discussions (or focus groups) in Nottingham since 1984 and have recruited for over 3,500 projects. Lynne's clients value her:
• vast experience
• personal approach
• proactive style
• positive attitude
• solid reputation
When you work with Considered Response, that's exactly what you get – a considered and thoughtful approach to qualitative research in Nottingham (and parts of Derby and Leicester), and to moderation across the UK.
Lynne achieves excellent results by recruiting motivated and enthusiastic respondents from all walks of life to fulfil your research needs.
Considered Response's location gives access to a vibrant and diverse community in the East Midlands – one of the most desirable places to live and to do business.
Lynne can offer groups in her own home, groups held at Nottingham's premium viewing studio Talkback, or recommend various suitable hotels across the area.
Lynne serves on the Committee of the ICG (Independent Consultants Group) and represents both the ICG and recruiters generally on the working party for the Recruiter Accreditation Scheme.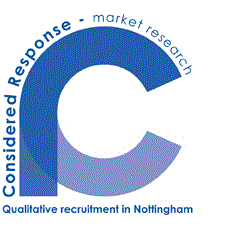 Ampersand Research
0115 993 2343
ampersand research is a Market Research Society award winning independent market research agency based in the heart of Nottingham. Jointly owned and managed by Mark Lasbury and Sarah Jones, we work with clients across numerous sectors both within the UK and globally. For over 18 years, together, we have managed and researched a wide range of subjects using both qualitative and quantitative methodologies.

When it comes to qualitative techniques we have a wealth of experience in conducting:

• group discussions
• depth interviews (face to face and via telephone)
• shop alongs
• workshops
• ethnographic based interviews

We would be delighted to support you with any research needs you may have. Whether it be full service (proposing suitable methods to presenting the final report) or dipping in and advising at various points during the project life cycle (providing moderation, advising on discussion guides) or just general guidance on how research may help you or your organisation.