Considered Response
07836 242832
Lynne Chapman CMRS is well-known in the Qualitative Market Research industry as she has been recruiting people to attend group discussions (or focus groups) in Nottingham since 1984 and has recruited for over 4,500 projects. Lynne's clients value her for her vast experience, personal approach, proactive style, positive attitude and solid reputation.
As testament to this fact, Lynne is very proud to be the UK's first MRS/AQR Accredited Recruiter, passing the exam with a Distinction.
And even prouder that, in recognition of her contribution to the Accreditation, the MRS has made her a Certified Member and a Company Partner.
Lynne achieves excellent results by recruiting motivated and enthusiastic respondents from all walks of life to fulfil your research needs in Nottingham (and parts of Derby and Leicester).
She also serves on the Committee of the ICG (Independent Consultants Group) and for the last eight years she has represented all recruiters on the MRS/AQR working party for the Recruiter Accreditation Scheme.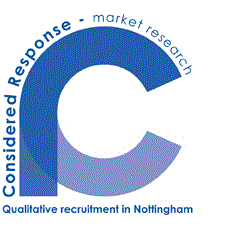 Patricia Turner Market Research
0115 875 9156
Patricia & Roger Turner offer reliable and professional Qualitative Market Research Recruitment. We specialise in Focus Groups, Depths and Online Surveys in Nottingham, Nottinghamshire, Derby and South Derbyshire (East Midlands). Patricia has been involved in recruitment since the late 1980's. She made the successful transition into Market Research Recruitment in 2005, with full training from Millward Brown, Ipsos Mori and JRA. Roger has worked in the industry since 2007. We have always been particularly proud of our 'Respondent Attendance Rate', and from the projects completed in November/December 2015, out of a possible 195 respondents, 193 attended - equal to a 99% attendance rate.
Jenny Sparrow Research
0115 973 4655
Jenny Sparrow Research is a small freelance company based in Long Eaton, Nottingham and operating in the East Midlands area, mainly within the Derby and Nottingham area. We are owned and operated by Jenny Sparrow who has more than 19 years experience in organising and hosting market research focus groups on behalf of agencies and businesses country wide. Using up to date methods to collect and organise information and data we are able to recruit respondents meeting various criteria ranging in demographics and consumer activity to those holding certain attitudes and opinions.
Shirley Research
01332 280 928
My name is Shirley Price and I have been arranging and hostessing Marketing Focus Groups for over 25 years.We are situated just 3 miles from M1 Junction 25 and 5 miles from Derby mainline railway station with hourly services to London St. Pancras.
I have built my reputation on providing a personal, professional service. All initial contact to respondents is made in person or via the telephone. I never resort to advertising projects via e-mail or on the internet.
dfr
0115 877 4215
Great qualitative fieldwork is all about the people and the communication. We can find the respondents you need to ensure your fieldwork is a success. We will work with your budget and your ideals but also bring proactive thinking to the table so you benefit from our experience.We promise total involvement in the recruitment process, attention to detail, pre-emptive thinking and practical solutions to problems. Alongside sensitivity to client aims and objectives, speedy responses and regular progress updates. Out of hours project management services when needed. In brief quality service, quality respondents and consistent added value. As well as recruitment in our home city of Nottingham we can handle nationwide recruitment projects meaning we simply take the pain of fieldwork away.